Mars Hill Bible Church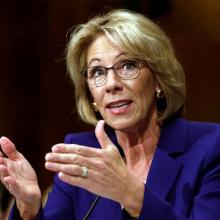 The position for which Betsy DeVos has been nominated — secretary of education — is one of the least powerful in the Cabinet, in terms of its budget and position in the line of succession to the presidency.
And yet, after a confirmation hearing in which she struggled to answer questions, some Senate offices have received more calls opposing DeVos than any other nominee.
All 48 Democratic senators and two Republicans — Sen. Lisa Murkowski and Sen. Susan Collins – opposed her when her nomination came to a vote on Feb. 7. Vice President Mike Pence cast a tie-breaking vote.
Mars Hill Bible Church has appointed a new teaching pastor, months after founding pastor and well-known author Rob Bell departed for California.
In an email sent on Wednesday to members of the Grandville, Mich., church, leaders announced Kent Dobson had accepted the lead position.
Dobson served as a worship director in the church's early days and has preached as a guest speaker in the months since Bell left. He is the son of Ed Dobson, pastor emeritus at Calvary Church in Grand Rapids.