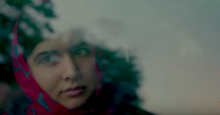 The story of Malala Yousafzai is well beloved by Western media, with news outlets having followed her life closely for the past three years. And rightly so. The Pakistani teen is an activist for girls' education and a well-respected world leader in promoting the voices of women and girls around the globe.
It was her belief that all girls have a right to an education that made her a target of the Taliban, resulting in Malala losing hearing in her left ear and being forced out of her beloved home in the Swat Valley, Pakistan. Malala celebrated her sixteenth birthday by addressing the United Nations in 2013, the same year she released her memoir, I Am Malala. And most recently, she was named the Nobel Peace Prize recipient of 2014. Her non-profit, The Malala Fund, invests and advocates for girls' secondary education, in order to amplify the voices of girls around the world who have been ignored.
It would be hard to create a stronger superhero for girls and boys in anyone's imagination.