mainline church decline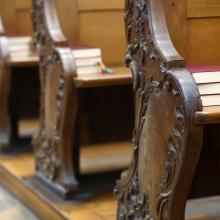 I am in a lovely college town to help a congregation discern its path forward.
It faces challenges that many church leaders will recognize: leadership, finances, isolation from the surrounding community, not enough young and middle-age adults to carry the congregation forward.
It also has pluses. The members aren't deeply divided or mired in distrust and disdain. They aren't afraid of change. They don't bury the future in grand laments about a lost "golden age."
I think they have a good shot at turning a corner and building a healthy next phase. I hear reports from across the nation that things are improving for Christian congregations. A new generation of clergy is exploring new ideas. Fresh energy is emerging. Denial is losing its hold, as congregations whose average age is 60 to 65 realize they must change or die.
Denominations are slower to adapt, but they, too, are moving forward in practical ways such as training in leadership and stewardship, and flexible deployment of resources.
Yet for this fresh day to last, church leaders will need to embrace a truth that goes beyond organizational development and resolving present issues. It's a truth that many congregations simply cannot hear.
That truth is this: There is too much shallowness, not enough depth.
Over the years, in a process that isn't at all unusual, we have equated faith with attending Sunday worship, maybe pitching in on a committee, and forming friendships within the fellowship. People enjoy belonging to the congregation. They radiate a palpable joy in being together. They seem content.
Mitt Romney may or may not become the first Mormon to move into the White House next year, but a new study shows that Mormonism is moving into more parts of the country than any other religious group, making it the fastest-growing faith in more than half of U.S. states.
The 2012 Religious Congregations and Membership Study, released here Tuesday (May 1), shows that the mainline Protestants and Catholics who dominated the 20th century are literally losing ground to the rapid rise of Mormons and, increasingly, Muslims.