Lutheran Church, Missouri Synod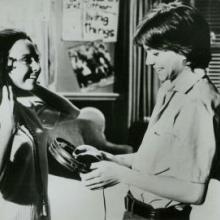 The little daughter, though, is as enchanted by the white boy as much as he is as annoyed by her, and speaks to him cheerfully despite his laconic responses.
It is she who is the catalyst for the plot's action: Just as the boy is being ever more sucked into bad company and down the wrong road, something happens to the little girl. Either she's hit by a car, or threatened by the (white) thugs he's been hanging out with—of this, I have no memory.
What I do remember is, at the moment the little girl is hurt, the dormant moral impulses of the white boy spring into action. Finally, he sees in the girl a fellow human being, and in that moment becomes one himself.
He holds her in a stark reverse pietà that is burned into my memory: when the girl is saved, he, too is saved, and he and she both return home, to the home that is now, in spiritual truth, both theirs.
I've scoured this story in my memory for years—is it just another representative of a "Magic Negro" narrative? Yes—but even by dint of sophisticated analysis, the story continues to yield up its power to me. It made me want the racial chasm all around me to be healed, but even more (I identified, you see, with that angry white teenaged boy), it convinced me of the reality of sin, my need to be redeemed.
And it also convinced me of the reality of mysterious, unexpected grace.
Unexpected grace was exactly what I found when at last, at the age of 43, I decided to go searching for that program, and that episode.