Lutheran Church Missouri Synod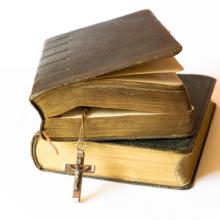 ST. LOUIS -- Lutherans and Catholics are not historically known for their theological sympathy, but earlier this month the president of the Lutheran Church-Missouri Synod told the U.S. House that he will "stand with our friends in the Catholic Church" in opposition to a recent government ruling on contraception.
History aside, the Rev. Matthew Harrison made it clear that the Missouri Synod now has "large consensus with the Roman Catholic Church on moral issues."
"The Christian church is a billion times beyond the Missouri Synod," Harrison said. "Without the Roman Catholic Church in this country, our way would be infinitely more difficult."
The Vicar of Dibley's Mother Geraldine is one of my all-time favorite television characters. Apart from her various entertaining antics, she also has a beautiful pastoral touch and way of communicating the grace and mercy of the gospel with honesty, passion and great humor — not unlike many of the women clergy I am blessed to know and have known over the years.
While women clergy are a given part of the life of the church for many of us, their presence in the Great Conversation remains a point of contention and controversy for not a few of our brothers and sisters in Christ. I was reminded of this Monday while reading the latest blog entry from our God's Politics contributor Nadia Bolz-Weber, pastor of the House for All Saints and Sinners church in Denver.
On Sunday, Nadia, an ordained minister of the Evangelical Lutheran Churchin America, received an email inquiry from a friend of a friend informing her of some less-than-love coming her way from her more conservative cousins in the Lutheran Church (Missouri Synod) who are aghast at something that went down at House for All's post-Easter Vigil party a while back.
As part of their celebration of Jesus' resurrection, House for All's Easter party included a three-tiered chocolate fountain set up in the church's baptismal font.