London Stock Exchange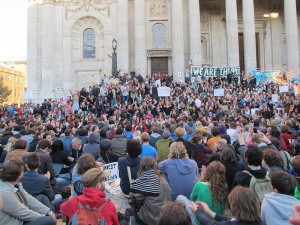 On Sunday (10/30), the Anglican Bishop of London, the Rt. Rev. Dr. Richard Chartres, met with Occupy London protesters who have encamped for several weeks now on the ground of St. Paul's Cathedral in London, in an ongoing attempt to get the demonstrators to leave church grounds.
Chartres wants the Occupiers to vacate cathedral property and stopped short, in an interview with the BBC yesterday, of saying he would oppose their forcible removal. Other British clergy, however, are rallying behind the demonstrators, saying they would physically (and spiritually) surround protesters at St. Paul's with a circle of prayer or "circle of protection."