Lo How a Rose Ere Blooming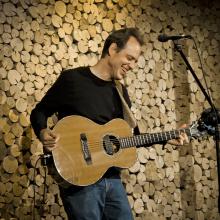 In this season of expectation as we await the incarnation of God-with-us, my heart turns to a song that, to me, captures the spirit of Christmas.
It has no jingle bells or chestnuts roasting by an open fire. There is no explicit reference to mangers, magi or a baby boy. But Asheville, N.C.'s favorite son, singer-songwriter David Wilcox, nails the heart of the Christmas story in his song, "
Show the Way
."
The sense of expectation, pearched on the edge of our seats waiting for something to happen — waiting for the divine surprise — is palpable in the song David first recorded on his 1994 album,
Big Horizon.
And while David's tune "
Miracle
" — a whimsical retelling of the story of the Three Wise Men (whom he calls the "Three Wise Guys") — is also a Christmas favorite, it's "Show the Way" that I return to in Advent, as we abide with joy, waiting to hear the cry of a tiny baby in a stable in a backwater town in the land we call "Holy."