Lies My Teacher Told Me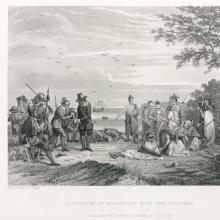 "The antidote to feel-good history is not feel-bad history but honest and inclusive history." – James Loewen, Lies My Teacher Told Me, 92.
It's becoming increasingly difficult for Americans to celebrate Thanksgiving. This Thanksgiving, as we take turns around the dinner table sharing why we are thankful, a sense of awkwardness settles in. The awkwardness is not only due to the "forced family fun" of having to quickly think of something profound to be thankful for. (Oh, the pressure!) The growing awkwardness surrounding Thanksgiving stems from the fact that we know that at the table with us are the shadows of victims waiting to be heard.
Humans have an unfortunate characteristic – we don't want to hear the voice of our victims. We don't want to see the pain we've caused, so we silence the voice of our victims. The anthropologist Rene Girard calls this silencing myth. Myth comes from the Greek worth mythos. The root word, my, means "to close" or "to keep secret." The American ritual of Thanksgiving has been based on a myth that closes the mouths of Native Americans and keeps their suffering a secret.