leave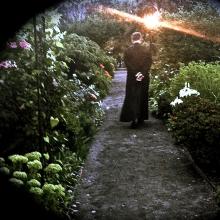 Editor's Note: This is the sixth and final installment of Presbyterian pastor Mark Sandlin's blog series "Church No More," chronicling his three-month sabbatical from church-going.
They say you can never go home again.
The thinking is that, having left and experienced new things, you have changed and the people back home have continued in their lives just as you left them. Your experience of going back home again necessarily will be very different from your experience of home as you remember it, even though it may have changed very little.

In many ways, Church is one of my homes and I left it. I walked away for three months and experienced a bit of life outside of it. The three months are up and I'm going back home. This coming Sunday (Sept. 2) will be my first Sunday back.

The saying "you can't go home again," probably originated from Tom Wolfe's novel, You Can't Go Home Again. It's the story of an author who leaves his home, writes about it from a distance and then tries to go home again. It doesn't exactly go well. The folks in the town are none-too-happy about him airing their dirty laundry so publicly.
So, you can't go home again? Well, I'm going to try.
TRENTON, N.J. — As part of a survey to understand why they have stopped attending Mass, a few hundred Catholics were asked what issues they would raise if they could speak to the bishop for five minutes.
The bishop would have gotten an earful.
Their reasons ranged from the personal ("the pastor who crowned himself king and looks down on all") to the political ("eliminate the extreme conservative haranguing") to the doctrinal ("don't spend so much time on issues like homosexuality and birth control").
In addition, they said, they didn't like the church's handling of the clergy sex abuse scandal and were upset that divorced and remarried Catholics are unwelcome at Mass.