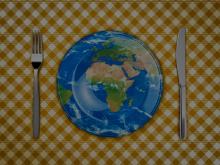 Even on a local scale, problems like poverty and hunger can overwhelm our imaginations. My own city of Lancaster, Pa., is like countless others. Pockets of true poverty cluster in the old city and dot the countryside. Affluent developments surround the city, while hip new housing is popping up in the center of the city. An impressive urban revitalization campaign has transformed the city's image, making downtown an attractive place to eat, shop, and play.
Recently, however, a study by Franklin and Marshall College has shown that Lancaster's resurgence has not helped its poorest residents. Just the opposite has occurred. Between 2000 and 2013, per capita income has grown by 20 percent in the city's center while it has declined in every other section. What looks like progress from the outside contradicts the harsh reality that thousands experience.
It's a typical scenario, in which outcomes such as life expectancy and high school completion rates vary dramatically, even in adjacent zip codes and school districts. Faced with such stubborn realities, many individuals feel at a loss concerning how to make a difference.