kwanzaa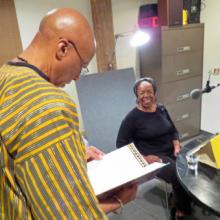 Kwanzaa began Wednesday but two veteran storytellers began planning for the weeklong celebration of the Western African diaspora back in October.
That's when Wilmington, North Carolina, storyteller Joyce Grear and Madafo Lloyd Wilson, host of A Season's Griot, met to decide what story Grear should read this year.
They sat in the wide, barren conference room between radio studios at WHQR Public Radio, where A Season's Griot has been produced for more than two decades as the only nationally syndicated Kwanzaa radio show in the country.