karzai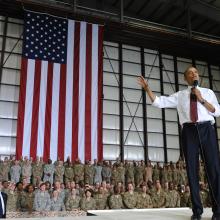 Watch videos of President Obama's surprise visit to Afghanistan today and read the transcript of his address to the American people tonite inside the blog.
"As we move forward, some people will ask why we need a firm timeline. The answer is clear: our goal is not to build a country in America's image, or to eradicate every vestige of the Taliban. These objectives would require many more years, many more dollars, and many more American lives. Our goal is to destroy al Qaeda, and we are on a path to do exactly that. Afghans want to fully assert their sovereignty and build a lasting peace. That requires a clear timeline to wind down the war. Others will ask why we don't leave immediately. That answer is also clear: we must give Afghanistan the opportunity to stabilize. Otherwise, our gains could be lost, and al Qaeda could establish itself once more. And as Commander-in-Chief, I refuse to let that happen.
"I recognize that many Americans are tired of war. As President, nothing is more wrenching than signing a letter to a family of the fallen, or looking in the eyes of a child who will grow up without a mother or father. I will not keep Americans in harm's way a single day longer than is absolutely required for our national security. But we must finish the job we started in Afghanistan, and end this war responsibly."

~ President Obama speaking to the nation from Bagram Air Base in Afghanistan
Presidents Obama and Karzai have signed in Kabul a strategic partnership agreement between the two countries.
The Associated Press reports:
"The partnership spells out the U.S. relationship with Afghanistan beyond 2014, covering security, economics and governance. The deal is limited in scope and essentially gives both sides political cover: Afghanistan is guaranteed its sovereignty and promised it won't be abandoned, while the U.S. gets to end its combat mission in the long and unpopular war but keep a foothold in the country. The deal does not commit the United States to any specific troop presence or spending. But it does allow the U.S. to potentially keep troops in Afghanistan after the war ends…"
"At a signing ceremony in Kabul with Afghan President Karzai, Obama said the agreement paves the way for 'a future of peace' while allowing the United States to 'wind down this war.' Karzai said his countrymen 'will never forget' the help of U.S. forces over the past decade."