Karen Peris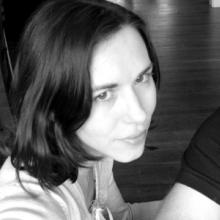 I can name any Innocence Mission in two notes or less. Half a second if the song begins with Karen Peris' voice. If you're a fan of the Innocence Mission, which is comprised of Karen Peris, her husband, Don Peris, and bassist Mike Bitts, you know precisely what I'm on about.
Karen Peris' voice is what I would imagine one of the Sirens (the nice one) might sound like, or perhaps the voice of a
selkie
— those mythological beings the Celts believed were seals who could shed their skins and become human for a time. Karen's voice is sweet, but never saccharine. Earnest, certainly, but never straining toward pathos or reaching for an emotional response.
It's light and full of delight. Simply (and it's simplicity is part of its great charms) beautiful.
The Innocence Mission's rendition of "Away in a Manger" is a prime example of what Karen Peris' voice can do. It's in high rotation in my Christmas 2011 mix on iTunes and rarely fails to put a lump in my throat or a tear in my eye — signs that the Holy is drawing nigh, according to the great sage of Vermont, Frederick Buechner.