Kairos Southern Africa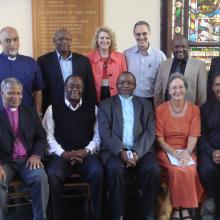 In 1985 the South African writers of the Kairos Document declared the Dutch Reformed Church's "state church" theology to be heretical because of its justification of apartheid. In the months following, Desmond Tutu and many other anti-apartheid leaders risked their lives for change.
On the 2012 Centenary Celebrations of the African National Congress, 21 years after Nelson Mandela's release from prison, the Kairos Southern Africa theologians have released, "A Word to the ANC in These Times." The document boldly calls attention to the "certain contradictions [that] continue to militate against … fully achieving the dream that the injustice … meted out to black South Africans by the colonizers would come to an end."
The document raised other critical issues, such as diminishing diversity, party factionalism and inappropriate security measures. The authors clearly declared, "A house divided against itself cannot stand." (Matthew12:25)
The Kairos steering committee met with the ANC executive in a closed meeting February 8. The discussion focused on poor standards of education, unsustainability of an "opulent 'American dream' lifestyle, respecting the Constitution of the Republic, and closing the gap between the richest and poorest.