Justice Roy Moore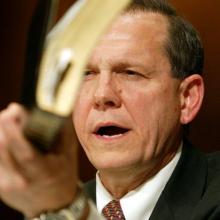 MOBILE, Ala. — You might think a candidate's ouster from the post he is seeking to regain would play a central role in a statewide election.

Yet Republican Roy Moore's forced exit, almost a decade ago, as Alabama's chief justice over a Ten Commandments monument seems only a murmur on the campaign trail.

Voters don't often ask about it, and the other two candidates in the March GOP primary hardly ever talk about it.

Moore plunged Alabama into a showdown in 2003 when he erected a 5,280-pound granite monument to the Ten Commandments in the Alabama judicial building in Montgomery. A federal judge declared the monument to be a violation of the separation of church and state and ordered Moore to remove it.

When Moore refused, a special panel of retired state judges voted unanimously to remove him from office for violating a higher-court order.