Just Love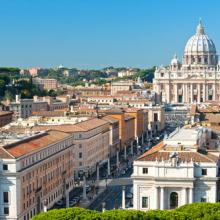 A long-simmering conflict between the Vatican and American nuns erupted again on June 4 when the Vatican's doctrinal office issued a scathing critique of a popular book on sexual ethics by Sister Margaret A. Farley, one of the first Catholics to teach at Yale Divinity School.
After two years of study, the Vatican's Congregation for the Doctrine of the Faith published a "notification" on Farley's "Just Love: A Framework for Christian Sexual Ethics," saying it contradicts Catholic doctrine on key issues such as gay marriage, homosexuality and divorce.
Coming just days after U.S. nuns rejected the Vatican's reasoning for a wholesale makeover, and a year after U.S. bishops sanctioned another nun theologian, the condemnation of Farley is the latest example of what critics see as a top-down attempt to muzzle women's voices and an obsession on sexual ethics.