June Keener Wink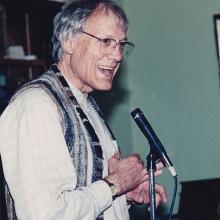 Walter Wink, 76, a world-class biblical scholar and non-violent practitioner, crossed over to God on May 10 at his home in Western Massachusetts. Following a slow decline, he had been in hospice for several weeks in the company of his beloved June and their family. (See "Confronting the Powers," Sojourners December 2010)

As a first year seminarian in New York City, more than 35 years ago, I was fortunate to have Walter as my New Testament instructor. In a seminar session on the "pearl of great price" in Matthew, I have a vivid memory of him breaking the discussion so we could go round the circle and each reply to the question: "For what would you be willing to die?" I don't so much recall my own halting answer, as the depth of the question he understood was put to us by the text. It's since become my conviction that no one should escape seminary (or baptismal preparation for that matter) without facing with that query.

Which is to say he was himself an engaged scholar, connecting the academy with the risk of the streets. While filling his first teaching post at Union Seminary in New York he was simultaneously serving on the national steering committee of Clergy and Laity Concerned about the War in Vietnam (1967-76).

He was notorious for foundation-shaking works. When I met him, Walter was a rising star in the biblical guild, on the fast track at Union. Then he published a little polemical book called The Bible in Human Transformation (1973) which made bold to declare, "Historical biblical criticism is bankrupt." It assailed the myth of scientific objectivity, the disembodied approach which kept the text at arms length and pre-empted commitment. In many respects it anticipated the contextualizing hermeneutics of feminist and liberation readings, but it didn't win him friends in the academic guild.