Judge Mary Jacobson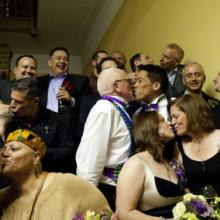 Gov. Chris Christie announced Monday that he was dropping the fight against same-sex marriage in New Jersey by withdrawing his appeal of a major case that was being heard by the state Supreme Court.
Starting one minute after midnight, gay couples have been getting married after the Supreme Court refused on Friday to delay the first weddings while it heard Christie's appeal of a lower-court ruling that legalized gay marriage last month.
Christie said the court, in rejecting his plea for a stay, had made strong statements that settled the larger case.
The judge who declared same-sex marriage legal in New Jersey was raised a Catholic in Bayonne, a place where the locals still use their church — not their neighborhood — to define where they're from.
Judge Mary Jacobson graduated in 1971 from Holy Family Academy, a since-shuttered all-girls Catholic high school near her home.
"In Bayonne, you identified yourself by your parish," said Thomas Olivieri, a retired Superior Court judge in Hudson County and a Bayonne native. "Mary's family was from St. Mary's parish. Ours was from St. Vinny's. We're both very proud of where we came from."