jingoism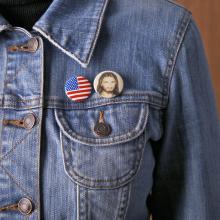 Recently, someone asked me to respond (on video) to how I reconciled both love of God and love for country. I struggled with the question, mostly because of the typical baggage that comes along with Christian patriotism, much of which teeters on the verge of jingoism. So I didn't respond at all.
I'm really sensitive to what I call "Christian exceptionalism." There are those within Christianity that honestly believe America is God's second Zion, the new Israel, and that we Americans are God's new chosen people. This, in turn, helps justify everything from flags in worship spaces to the Ten Commandments in the public square, and even pre-emptive acts of aggression against perceived threats around the world.
Basically, when you hold yourself up as somehow favored in the eyes of God, it's easy to hold those you deem as less favored to be somehow "less than," and to dehumanize all who do not conform to your custom-built ideal of what it means to be "American."
For me, though, such sentiments not only are un-American in the sense that they don't ascribe to the "liberty and justice for all" ethos; it's also patently un-Christian.
I'll admit, I follow a few celebrities on Twitter — especially the writers and actors of my favorite sci-fi shows. If I didn't love Firefly/Serenity and Chuck, I probably wouldn't be following Adam Baldwin (@adamsbaldwin). There's something sickly fascinating about reading Baldwin's extreme right-wing hate speech on a regular basis.
I'm still not for sure if his Twitter persona is an extension of his characters or if he simply plays himself in his shows — as his gun-loving Ronald-Reagan-obsessed characters mirror what he posts on Twitter. So whether or not his tweets are caricature or the real deal, they serve as my reminder of the extremes of individualistic nationalism that stands in direct contrast to the ways of the Kingdom of God.
A few days ago, he posted the following Tweet:
anti -American Blog! | RT @washingtonpost "Why do we overlook civilians killed in American wars?" - http://wapo.st/xhLko2 ~ #FreedomIsNotFree