jewish culture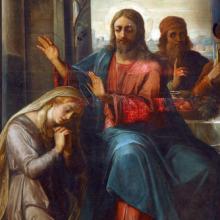 Last Friday was International Women's Day. It was a day of celebrating how far we've come, but also a reminder of how far we need to go.
I'm reminded of an experience I had with a member of my youth group a few years ago. We were volunteering for a social service project. A member of the group happened to be named Eve and we thought it was fun to play up the joke. I'd start greeting people, "Hi! I'm Adam," and then Eve would chime in, "and I'm Eve!"
We always received the strangest looks, which, of course, is why we did it. But this time it was different. A man at the service project actually said,
"Oh. So you're the one to blame."
Eve was able to laugh it off and respond with grace, but I was pissed. I instinctively scowled at the man. It was a deep blow to me because, once again, religion was being used to put women down. But this time it was personal. Religion was being used to put down a member of my youth group.
Of course, religion hasn't always been good to women. Or, maybe it would be better to say that religious men have used religion as a weapon to make women feel inferior. Whenever we blame someone else it's a sign of our own weakness and insecurities. We don't have the courage to deal with our own inner turmoil so we blame someone else. This is classic scapegoating and we men have been scapegoating women in this way since the beginning of human history. It's pathetic. International Women's Day is a reminder to me that women and men need to work together to end the religious bigotry against women.
My model for this is Jesus, my favorite feminist. [1]
So, in the spirit of International Women's Day, I offer you the top 4 ways Jesus included women as full members of his posse.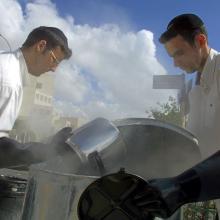 During the month leading up to Passover, which this year begins April 6 at sundown, Chevy Weiss, an ultra-Orthodox Jewish mother with five kids and a demanding career, scrubs and vacuums almost everything in her Baltimore home.
In keeping with their strict interpretation of Jewish law, which forbids Jews from possessing and consuming chametz (fermented grains) during the eight-day festival, Weiss and her husband, Yoel, clean every one of their five children's toys by hand, with bleach.
While some families clean items in a washing machine, "we wash every piece of Lego individually, like my mother did," said Weiss, a 39-year-old political consultant. "We vacuum every single pocket on every jacket. And we spend significant time with toothpicks getting into cracks of tables and chairs that have been around food."
Like other Orthodox families, the Weiss's also purchase chametz-free toiletries, makeup and cleaning supplies for use during the holiday.