Jewish Community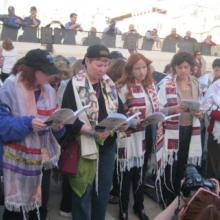 JERUSALEM — The ultra-Orthodox rabbi in charge of the sacred Western Wall assured a government emissary on Thursday that Jewish women will not be arrested if they try to recite the mourner's prayer at the holy site, despite a warning from Israeli police.
Tensions have grown between traditional Jews and reform-minded women over prayers at the Western Wall, which contains the remains of the Temple that was destroyed nearly 2,000 years ago.
Prime Minister Benjamin Netanyahu has tapped Natan Sharansky, chairman of the Jewish Agency, with defusing the conflict and ensuring "that every Jew in the world can pray in the manner that they are accustomed to at Judaism's most important national and religious site," according to a statement issued by the Jewish Agency.
Days after a lone gunman murdered a rabbi and three children at a Jewish school in Toulouse, France, a new study reports widespread anti-Semitism in France and across Europe.
The survey, completed in January and released Tuesday by the New York-based Anti-Defamation League, finds that 24 percent of the French population holds anti-Semitic views, up from 20 percent in 2009.
When asked if violence against Jews is rooted in anti-Jewish or anti-Israel sentiment, four in 10 Europeans (39 percent) responded that it was the result of anti-Jewish sentiment.
In France, 45 percent of those asked held this view, up from 39 percent in the previous survey.