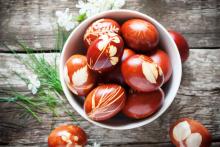 This is Holy Week, the most sacred time of year for Christians. It is the time they mark the betrayal, trial, and crucifixion of Jesus, and a week that culminates in Easter Sunday, the day Christians believe Jesus rose from the dead. So what do colored eggs have to do with anything? Let us Egg-'Splain …
Q: Is Holy Week really a whole week? I only know about Good Friday and Easter Sunday.
A: Holy Week is the entire week between Palm Sunday and Easter Sunday. Not a whole lot happens on Monday and Tuesday, but some Christians mark the crucifixion on Wednesday, and some celebrate Maundy Thursday, the day of the Last Supper, Jesus' final Passover meal with his disciples. It is sometimes celebrated with a foot-washing ceremony, a tradition beloved by Pope Francis, and a "Pascha" or "Paschal" meal, derived from the Jewish Passover Jesus would have known. Then comes Good Friday, Holy Saturday, and Easter Sunday. Fun fact: Not all American Christians greet each other with "Happy Easter." To many evangelicals, the day is "Resurrection Sunday," in part because they believe the word "Easter" has pagan roots.
Q: What is so "good" about Good Friday, the day Jesus was horribly tortured to death?