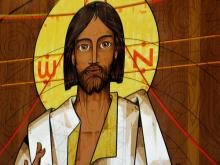 As a person who (loosely) identifies with the evangelical tradition, allow me to make a clear, unambiguous, declaration: GOD IS PRO-PEACE!
You may be thinking, "Just how exactly does a guy who claims to believe in the inspiration of Scripture arrive at the conclusion that God is pro-peace? Has this guy even read the Bible? Maybe he's one of those amnesia-type Christians, the ones who read through the Bible every year as part of their daily devotions, and every time they get to the slavery and genocide passages, their mind goes ______________.
Maybe it wasn't those exact words, but whatever you were thinking,  believe me, I get it!