jason harrod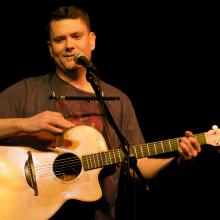 The first time I heard Jason Harrod sing was more than 20 years ago at a coffee house at Wheaton College outside Chicago where we were both studends at the time. He sang Neil Young's "Sugar Mountain," and his tenor voice was so pure, so perfect and sweet and heartbreakingly earnest, I ended up crying in my mochachino.
We're both now in our 40s, Jason is stil singing like an angel, and I'm still listening (occasionally in tears) along with many other fans who have discovered the unique charm of Jason's Smokey-Mountains-meets-Brooklyn-subway sensibilities and ever soulful wordsmithery.
Jason and his former musical partner in crime, Brian Funck, recorded "Lion Song" on their self-titled second album, Harrod & Funck that, while not a Christmas song per se, has always felt like a winter tune and tale to me. Seeking shelter from the cold and finding it. Getting lost and being found. The great gift of grace in all of its myriad forms — in relationship, in a light in the darkness, a glimpse of the horizon in the storm, or in the first toddling steps taken by a baby boy sent as a gift (to ALL) to heal and reconcile the world.
Produced by Cathleen Falsani for Sojourners/God's Politics
Photos by Heather Wilson and Carrie Adams/Sojourners
Music by Jason Harrod (used with express permission from the artist)
Song: "For Your Time" from Jason Harrod's album Bright As You, 2006
All Rights Reserved