january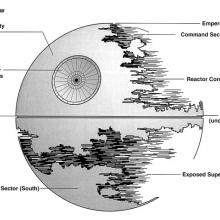 A super artsy way to make shirts and furniture look cool, a wolverine that saves people from avalanches, a bird singing dubstep, a guy who documented his year in one-second video clips, and a petition to the White House to make the Death Star. Awesome.
Today in 1894, Thomas Edison made the first copyrighted film. It looks super hipster. Come on, Thomas. [via GOOD]
Betty White painting the IKEA monkey? Take a look at the restoration process of a painting that bares a striking resemblance to the now famous meme. and tune in to "Hot In Cleveland" on Wednesday, Jan. 9 at 10 p.m. EST on TV Land.[via Huffington Post]
The Internet is good for a lot of things, and a GoPro camera on a trombone is one of those things.
The National Geographic Photo Contest winners are in, and there are some pretty cool photos. [via Laughing Squid]
It's the little things in life that keep us going. And for Aleksander Gamme, Norwegian Explorer, finding some Cheez Doodles he placed in a pit stop on a trek in Antarctica made a huge difference. Keep on keepin' on, Aleksander. [via Huffington Post]