Jamila Bey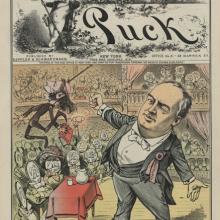 Meet Robert Ingersoll, the most famous American atheist you've probably never heard of.
A self-educated attorney and atheist, Ingersoll was a Victorian-era rock star who could pack theaters from Texas to New York with people who came from hundreds of miles around to hear "The Great Agnostic" lecture against religion.
He was courted by politicians, his likeness was carved in stone, and when he died in 1899, newspapers around the country carried his obituary. A Civil War veteran, he was buried in Arlington National Cemetery.