The Invisible Girls
I flew to Houston over the weekend to speak at the Conspire Conference. I stood on a stage looking out over a few hundred students in grades 6-12, telling them my story of having breast cancer in my 20s.
I talked to them about what a dark season of life it was for me. The chemo and radiation were difficult, but on top of that I also lost a good friend to cancer, I was out of work for seven months, while in my apartment building's parking lot, my car was hit by a truck, and my boyfriend broke up with me. After all of that, I ended up in the hospital with a raging lung infection and a good chance that I would die.
On the nights I spent in the hospital, I'd lie awake and stare at the ceiling and wonder where God was. "Do you see me? Do you love me? Do you care about what's happening in my life?" I prayed. "And if you see me and love me and care about my life, why don't you come down and make this all go away?"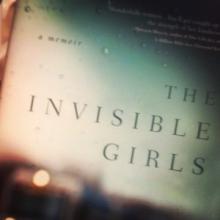 Sarah Thebarge is the author of The Invisible Girls, a new memoir from Jericho Books. I was fortunate to get a few minutes to ask her a few questions about her touching, funny, compelling new piece of work.
Q: Your book is about Somali Refugees and also about your survival of breast cancer. How do you write one book about both things?
A: When I met the Somali mom and her girls on the MAX the first time, we had a lot of differences – different religions, ethnicities, skin color, and language. But as I developed a relationship with them, I realized that we had a lot in common at the core. Because I'd been a little girl growing up in a fundamentalist culture, where men buried you under yards of fabric and lists of rules and taught you that women were supposed to be silent. And I knew what it was like to be a refugee of sorts, because after I nearly died of cancer in my 20s, I sold everything I had and got on a plane with a suitcase of clothes and flew from the east coast to Portland, Ore., and started over. And so even though the narrative lines of the Somali refugee family and my cancer experiences seem disparate, they actually weave together well, because all this time, I'd been an Invisible Girl, too.