intercession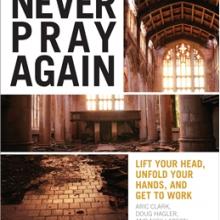 There's a place in the cultural conversation for both friars and fools, for those who discern truth through contemplation and prayer, as well as those who seek to reveal it through satire and silliness. But it's not every day that both come together for substantive (if not always serious) theological conversation.
Aric Clark, Nick Larson, and Doug Hagler, also known online as Two Friars and a Fool, host such conversations on their blog and podcast about theology and spiritual practice, sexuality, and popular culture. They recently combined forces as well for their first book, Never Pray Again: Lift Your Head, Unfold Your Hands and Get to Work. The intentionally provocative title emphasizes the need for Christians to get outside of our own heads and churches, and about the business of being the hands and feet of Jesus in a world in need.
I chatted with the trio recently about their new project, as well as the "Never Pray Again" coloring book, which they crowd funded through a recently successful Kickstarter campaign.
A headline from Reuters stopped me in my tracks earlier this week.
It read, '"Pray for us" say Syria rebels as army closes in'." I was struck by how moving I found this statement, this plea.
I do my best to remember places of conflict and strife in my prayers, but very rarely have I been petitioned to pray from a conflict situation by those in the middle of the conflict. It may be a strange reaction on my part to conflate a headline from a news report to be a direct request for my prayers, but that is how I responded when I read it.
"Pray for me" is not an abstract or passive statement. When we are asked to pray for someone, or a group of people, we are charged to bring their need or suffering to God.