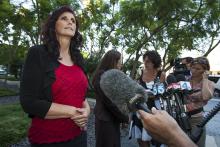 An appeals court has overturned a controversial ruling that required YouTube to take down a video that disparaged Muslims.
One of the actresses in the film sued to take it down and won, but an appeals court ruled May 18 that she didn't have the right to control the film's distribution.
When it was released in 2012, the short film, titled Innocence of Muslims, sparked violence in the Middle East and death threats to the actors.