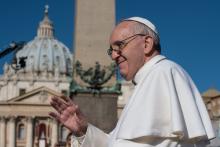 Even as a non-Catholic, I was filled with hope when an Argentine cardinal said to be passionate about serving the poor stepped onto the balcony overlooking St. Peter's Square as Pope Francis.
By taking the name of a church reformer, the former Cardinal Jorge Bergoglio promised a better day for an ossified institution whose people beg for hope while hierarchs defend medieval power and pomp.
By standing in silence and bowing his head for the crowd's blessing, Francis showed a humility that could inspire believers grown weary of Roman arrogance. In greeting the crowd, the new pope showed a common touch that could repurpose a global movement from being lost in scandal and self-serving.