inaugural mass
Even as a non-Catholic, I was filled with hope when an Argentine cardinal said to be passionate about serving the poor stepped onto the balcony overlooking St. Peter's Square as Pope Francis.
By taking the name of a church reformer, the former Cardinal Jorge Bergoglio promised a better day for an ossified institution whose people beg for hope while hierarchs defend medieval power and pomp.
By standing in silence and bowing his head for the crowd's blessing, Francis showed a humility that could inspire believers grown weary of Roman arrogance. In greeting the crowd, the new pope showed a common touch that could repurpose a global movement from being lost in scandal and self-serving.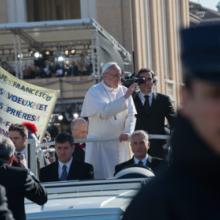 VATICAN CITY — Pope Francis issued a powerful call for the protection of the environment and of society's most vulnerable during his formal installation Mass at the Vatican, while qualifying his papal power as a "service" to the church and to humanity.
The pope on Tuesday celebrated a solemn Mass in St. Peter's Square in front of an estimated 200,000 people, as well as political and religious leaders from all over the world.
During the Mass, Francis received the symbols of his papal authority over the world's 1.2 billion Roman Catholics: the pallium, a lamb's wool stole that recalls Jesus as the Good Shepherd, and the "ring of the fisherman."
In keeping with the low-key style that has been the hallmark of his pontificate so far, Francis presided over a somewhat simpler, and definitely shorter, rite than the one that marked the start of Benedict XVI's reign in 2005.
Francis was slowly driven around a sun-drenched St. Peter's Square in an open-top car, shunning the bulletproof, air-conditioned popemobile preferred by his predecessors. At one point, he asked to stop the car and got out to bless a disabled person.
In his homily, delivered in Italian, Francis described the church's mission as "respecting each of God's creatures and respecting the environment in which we live."