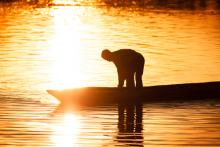 Two Sunday meetings prevented my going to the country with the family.
So on Saturday, I took a long walk up the Hudson River and then sat beside an open window overlooking the apartment house courtyard and felt a cool breeze.
No, it wasn't the same as a screened porch upstate. But it worked. Why? Because I made it work. I was motivated to step away from my desk and do something different.
Could I have had a more perfect day? Sure, I suppose so. But I didn't need perfection. I just needed something different. Yes, I was "settling," as they term it. But that's part of maturity: knowing that progress matters more than perfection. Sometimes you don't get exactly what you want, and making do can be enough. Tweaking the day can make it a better day.
Yet many people continue to chase perfection and refuse to compromise with realities that fall short.