Huckabee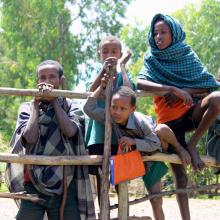 In an OpEd that appeared on POLITICO Monday, Mike Huckabee, the former Republican governor of Arkansas, and Blanche Lincoln, the former Democratic senator from Arkansas -- who together co-chair ONE Vote 2012, a non-partisan campaign to make global health and extreme poverty foreign policy priorities in the 2012 presidential election, wrote about the importance of maintaining U.S. foreign aid to the developing world that has helped make significant improvements in the health and sustainability of myriad nations, including many on the continent of Africa.
They wrote, in part:

It might come as a surprise to learn that less than one percent of the U.S. budget is spent on foreign assistance. It might even be shocking to discover that, despite this relatively small amount, these funds are literally saving millions of lives and improving the lives of many more millions of people.

For example, American investments in cost-effective vaccines will help save nearly 4 million children's lives from preventable diseases such as pneumonia and diarrhea over the next five years. We've also helped to deliver 290 million mosquito nets to Malaria-stricken countries, and put 46 million children in school for the very first time. And thanks to the leadership of Presidents George W. Bush and Barack Obama, 8 million HIV/AIDS patients now have access to life-saving treatments, up from just 300,000 a decade ago, making an AIDS-free generation a real possibility within our lifetimes.