house church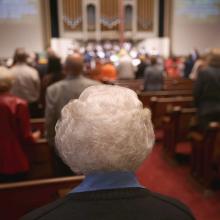 I empathize with people fleeing the local church. Churches can be battlefields instead of harbors, pits of condemnation or politics rather than wells of living water.
But the endless search for something "new" has trumped the life-changing story the body of Christ has nurtured and passed on for 2,000 years. This transforming story is the story the churches enacted weekly in Word and Sacrament before they forgot their original vocation as shelters of truth, life, and light amidst lies, death, and darkness. There were four revealed ways Jesus was present at the center of their public gatherings. These ways have been lost in too many places but are waiting to be rediscovered. More on that in a moment.
A young woman, a house church attendee, told me she longs for solid pastoral guidance, a message prepared weekly by an authoritative teacher, for worship that places Jesus Christ at the exact center of a public space where everyone is welcome, a place where she can bring her disbelieving friends whose lives are not yet transformed by self-sacrificial Love, a place where they can speak openly and honestly about where their lives still remain isolated from a holy God, a place of worship that does not lean on any one person's (or her personal) understanding and articulation of the Gospel but on the collective wisdom of the body of Christ.