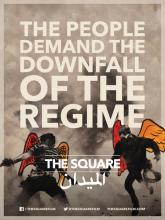 There's a lot anyone can learn from Jehane Noujaim's Oscar-nominated documentary The Square, an examination of the 18-day uprising that toppled President Hosni Mubarak.
But Egyptians may be least able to benefit from its lessons. So far, the film has not been approved for screening here.
On the third anniversary of Mubarak's ouster, which falls on Tuesday, Egypt is more polarized than ever, largely between those who are sympathetic to the Muslim Brotherhood and those who support the military. The film is a reminder of what Egyptians share, regardless of religious or political beliefs.