holy trinity
As demographics shift and migration brings global Christianity to the church down the street, how will U.S. congregations respond?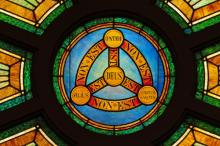 You may not realize this, but senior pastors throughout the world were on vacation last Sunday. Not because they were celebrating the American holiday weekend of Memorial Day. No, senior pastors the world over were conveniently on vacation because it was Trinity Sunday.
Of course, I can't blame pastors for taking a nice weekend vacation and leaving the challenge of preaching the Trinity Sunday sermon to their associates. I've always had a hard time with the Trinity — not because of the math. I was always horrible at math. I frequently tell people I became a pastor and a blogger because I failed Algebra. So, the concept that 1 + 1 + 1 = 1 has never been an issue for me.
Holy Trinity is not the most popular festival among preachers who, for all the other seasons and special days of the church year, normally get to dig into interesting gospel narratives. 
Most other festivals of the church celebrate an event. We commemorate happenings in the life of Christ: Mary's visit from Gabriel announcing the miraculous child she was to bear into the world, God's own word made flesh. We celebrate also the light bearing nature of your own patronal season of Epiphany, we celebrate the messy Baptism of our Lord, the confusing Transfiguration, and Jesus riding triumphant into Jerusalem amidst palms and cheers. We celebrate the empty tomb of Easter, the glorious Ascension, the chaotic coming of God's spirit to the church at Pentecost all leading up to today, when we celebrate … a church doctrine. 
Preachers dread this day because we see it as kind of a dry dusty theological topic after such the exciting and earthy part of the liturgical year that came before it. It's like there's this raucous party of Easter and Pentecost that comes to a screeching halt while an old crotchety man shuffles up to the pulpit, blows the dust off an enormous leather-bound book, clears his throat saying And now a celebration of church doctrine causing the music to fade, the last of the Pentecost streamers still floating to the ground. Church doctrine Sunday.