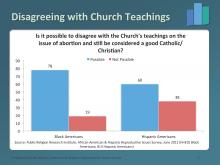 The influence of clergy in swaying their congregants' attitudes about moral issues like abortion and contraception access is dwindling, according to a new study. 
The Religion, Values, and Experiences: Black and Hispanic American Attitudes on Abortion and Reproductive Issues survey, conducted by the Public Religion Research Institute, shows that there continues to be a disconnect in personal, moral belief and feelings about public policy. 
"What they're hearing at church is not the big mover on attitudes of legality of abortion," Robert Jones, PRRI CEO, said. 
While 51 percent of black Americans believe abortion is morally wrong, 67 percent say it should be legal in all or most cases. 
"I really think that freedom of choice is probably one of the most precious components of what it means to be a Christian. Blacks have been quite possessive and reflective of this fact," said Dr. Stacy Floyd-Thomas, associate professor of Ethics and Society at Vanderbilt University's Divinity School. "… You do have the majority saying that they might see it as a sin or they are against it, but you still have the right."
Both groups believe it is possible to disagree with church teaching and be a good Catholic or good Christian. Jones pointed to the growing trend of personal versus external focus. Previous surveys have shown that attitudes about religion are mostly influenced by people's own beliefs and behaviors rather than institutional doctrine.