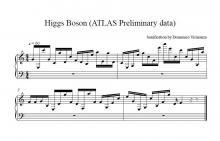 I haven't written about the discovery of the Higgs Boson particle yet. I think I posted about it on Facebook or Pinterest or somewhere like that. I'm excited by the discovery. Actually, I'm excited by discovery in general. Discovery is good stewardship. This particular discovery is particularly intriguing (Get it? I used "particular" since we're talking about particles! I'm so clever in the morning.).
So, let me begin with a simple prayer. I want to get into this a bit.
God of the moon, God of the sun,
God of the globe, God of the stars,
God of the waters, the land, and the skies,
Who ordained to us the King of promise.
It was Mary fair who went upon her knee,
It was the King of life who went upon her lap,
Darkness and tears were set behind,
And the star of guidance went up early.
Illumed the land, illumed the world,
Illumed doldrum and current,
Grief was laid and joy was raised,
Music was set up with harp and pedal harp.