Harper Collins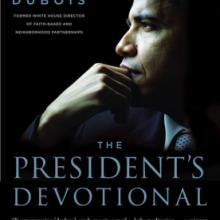 President Obama may not attend church most Sundays, but a new book reveals the Bible verses and prayers that he reads every morning.
The President's Devotional, released Tuesday by Pentecostal minister turned political aide Joshua DuBois, is a compilation of 365 of the more than 1,500 meditations DuBois has sent the president since he started working for him in the U.S. Senate.
DuBois, who left his White House post in February, spent his weekends reading and praying over what he would send to Obama's Blackberry the next week. He drew from the words of the Hebrew Bible and the New Testament, the songs of Nina Simone and Bob Dylan, and the activism of Fannie Lou Hamer and the Rev. Martin Luther King Jr.