harold and maude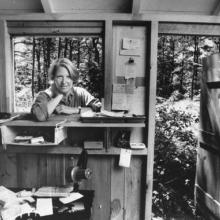 When Sojourners CEO Jim Wallis departed on his three-month sabbatical at the beginning of January, I sent him a list of books, films and music that I thought would nourish his mind and spirit in, perhaps, different ways than the media he normally consumes do.
Jim's sabbatical — a true Sabbath in the literal sense — is designed to be a time of rest and, more importantly, rejuvenation. It will also be a creative time when he will be working on a new book.
Jim is a creative. A writer. A visionary. He regularly digs deep into his heart and soul, breaks himself open and pours out his passion, hope and faith for the edification of others. If creatives aren't diligent, though, we can work ourselves into the ground. Our wells can run dry.
In sending Jim this list of what I like to think of as "soul food," I hoped to inspire his imagination and give him new fuel for the fire, if you will.
Rainey is quite a woman. Reared in Nazi-era Germany, she is well known around her adopted city of Seattle for her years of social justice activism. According to the Post-Intelligencer, Rainey even ran for mayor briefly in 2009, and was on her way to attend a city transportation department meeting when, as she was changing buses, she heard a swarm of helicopters over head, figured there was an Occupy demonstration near by and went to investigate.
Whether you agree with the ideology of the Occupy movement or not, Rainey is an inspiration. In an interview last week with Keith Olbermann, the octogenarian activist said that she was energized by the pepper spraying incident and went on to give a shout out to the late Roman Catholic nun, Jackie Hudson (also a life-long peace activist who was arrested several times for protesting at nuclear arms sites), for inspiring her to keep fighting the good fight, even in the winter years of her life.
Rainey recalled Hudson's words of inspiration: "Whatever you do, take one more step out of your comfort zone."