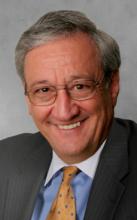 The great rejoicing after the U.S. Supreme Court's recent ruling on public prayer reminded me of the infamous line from an officer who commented on the destruction of a village during the Vietnam War: "We had to destroy the village in order to save it!"
There isn't much to celebrate in the high court's decision in Greece v. Galloway to allow sectarian prayers to be spoken in all kinds of public meetings. The big loser in this judicial decision was prayer itself — its uniqueness and its authenticity.
This most recent 
decision
 from the court, like many before it, has provided a "win" for conservative forces. But it comes at the price of a broadside against (if not a compromise of) religion. Why? Because prayer is a spiritual practice that's better defined theologically rather than politically or legally.