greatest generation
Baby boomers might not be that different from the Greatest Generation when it comes to religion. Like their parents, many boomers will attend religious services later in life. But unlike their parents, baby boomers are more likely to describe a deep, intense spiritual connection from a personal experience than a religious one from an institutional practice.
Many of them don't know it yet, said a researcher at this week's annual conference of the Gerontological Society of America in New Orleans, but growing old, regardless of what generation you belong to, brings on dramatic changes that can propel people to seek new meaning in religious services.
Vern Bengtson is the author of the recently published Families and Faith with co-authors Susan Harris and Norella Putney. He based his findings and predictions on a 35-year longitudinal study of 350 Southern California families and interviews with a subset of 156 families. The study's scope spanned six generations from 1909 to 1988. The conversations explored spirituality, religious beliefs, intensities, and practices.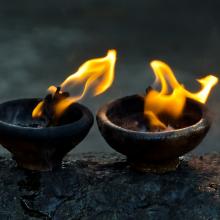 Memorial Day is a day to remember. A solemn holiday, it reminds us of the men and women who have died serving our country. Wreath-laying ceremonies and concerts fill the weekend, along with the placing of 250,000 American flags on the graves of Arlington National Cemetery.
Decorating graves is the oldest of Memorial Day traditions. In fact, the holiday was originally called Decoration Day and honored the soldiers who died during the Civil War. Flowers were placed on graves every year on May 30, and after World War I the holiday expanded to include soldiers who died in any war. In 1971, it was moved to the last Monday in May to create a three-day Memorial Day Weekend.
And that, writes Everett Salyer of HEAVEmedia, "is when all hell broke loose." For many Americans, the holiday became a celebratory weekend filled with grilling meat, drinking beer, splashing in pools, and watching stock car races.