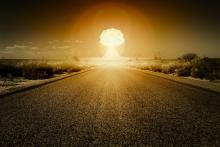 "Why did you, American Mother of the Year, commit civil disobedience in front of the Trident nuclear submarine?" a reporter asked the white haired, 78-year-old woman as she left the courthouse.
The woman, accused of being in a little boat blocking a nuclear submarine, answered without a moment's hesitation.
"I did it for the children of the world," she said.