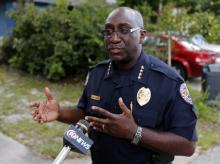 Christian ministers should establish relationships with law enforcement, seek ways to become moral authorities in their communities, and listen.
Those were the top recommendations from experts at a panel sponsored by The Gospel Coalition on April 14 titled "Seeking Justice and Mercy From Ferguson to New York."
The popular ministry offered an alternative approach to that of evangelist Franklin Graham, who was widely criticized for his recent "Obey the police, or else" comments on Facebook. The comments followed the spate of police killings of unarmed black men.
In response to that Facebook post, 31 African-American, Hispanic and Asian-American leaders, many of them evangelicals, signed an open letter to Graham, saying he revealed a lack of empathy and understanding of the justice system.
At the April 14 panel, pastor and former public defender Ed Copeland; music producer and Filipino film and TV actor Alex Medina; Sanford, Fla., Police Chief Cecil Smith; and U.S. Attorney Robert Lang offered tips to help ministers and other church leaders become "ministers of reconciliation."