God's glory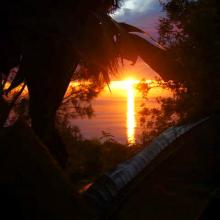 The approach of Transfiguration Sunday reminds me how, all through my evangelical upbringing, all those Bible passages about God's glory, and especially the parts where God demands glory, made me a bit uneasy. For example, Sunday's reading from 2 Peter 1 doesn't exactly hide anything under a bushel: Jesus "received honor and glory from God the Father when that voice was conveyed to him by the Majestic Glory, saying, 'This is my Son, my Beloved...'"
Divine love? Great. Family relationship? Warm and fuzzy.
But the double helping of glory with honor on the side and majesty on top — doesn't that come off as, well, a trifle narcissistic?

The root of my misperception was that our culture doesn't have a concept of glory at all. We just have celebrity, which is way, way, different. While giving someone celebrity can get degrading to all concerned (insert your own Jersey Shore joke here), God demanding glory is actually a deeply relational act.

I didn't realize my cultural blind spot from any church sermon or from 10 years of small group Bible studies or from getting my Ph.D. in literature, so thank God that I eventually found myself trying to teach the epic of Gilgamesh. That's when I realized how central the idea of fame was in many ancient cultures.