George Beverly Shea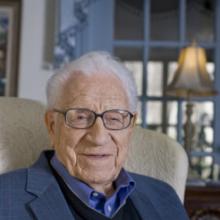 George Beverly Shea, whose signature baritone voice was a standard feature of Billy Graham crusades for more than half a century, died Tuesday at age 104.
He died after a brief illness, the Billy Graham Evangelistic Association announced.
Shea, who was 10 years older than Graham, met the famous evangelist seven decades ago when he was working at Chicago's WMBI, a Moody Bible Institute radio station. The evangelist heard him singing on the program "Hymns from the Chapel" and asked Shea to sing on his new radio program.
"I've been listening to Bev Shea sing for more than 70 years, and I would still rather hear him sing than anyone else I know," the ailing Graham said in a statement. "I have lost one of the best friends I have ever had, but he and I look forward to seeing each other in Heaven relatively soon."
Shea, who lived about a mile from Graham in Montreat, N.C., sang before Graham preached as they traveled the globe, often "I'd Rather Have Jesus" or "Victory in Jesus."
This week, George Beverly Shea, Gospel Music legend and longtime musical companion of Dr. Billy Graham on his many revival meetings around the world, celebrated his 103rd birthday!
A native of Canada, Shea, who now lives in Montreat, N.C., not far from that whipper-snapper Graham (who turned 93 just recently), is still going strong.
"Karlene and I rejoice in the Lord's overwhelming grace to give me 103 years of life!" Shea gushed on Monday (his actual birthday) according to the Billy Graham Evangelistic Association's website.