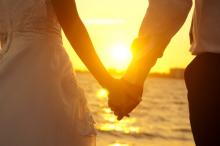 Editor's note: This is a He Said, She Said on the issue. To read this author's wife's take, go HERE.
My wife and I have been embroiled in a deep debate lately. It involves gender roles, complementarianism, egalitarianism, and often threats of a kick landing somewhere on my body. It's not that we haven't worked this sort of thing out within our marriage — I take out the trash, she does the laundry — but somehow despite both being raised in Christian households we do not see theologically quite eye to eye on this issue.
I happen to fall on the side of complementarianism. For me this does not threaten the basic equality or God-given image and sense of worth that belongs to all humankind. But I do happen to think men and women were designed differently biologically and otherwise. Yesterday morning in yoga, I did my downward dog alongside 15 women and one other guy. I work in the same building as a special needs school with 22 female teachers and only one dude. I am happy to say that there are some areas women seem to be drawn toward, and in my opinion, excel in.
My wife on the other hand would like to argue (and does) that to pointing out any differences whatsoever leads necessarily to thinking in terms of an inequality. She believes that many of the Biblical mandates on gender roles have more to do with timing and culture than God-given norms.