Gary Bauer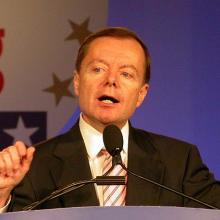 In a recent column for USA Today, Gary Bauer (former GOP presidential candidate and President of a conservative political organization called American Values) makes a big biblical blunder. He addresses the issue of the role of faith in politics and uses Jim Wallis as an example of a Christian with whom he shares religious heritage but not political conviction.
Sojourners Editor Jim Wallis and I are both evangelical Christians. But we come to radically different conclusions about government's role in addressing poverty. Wallis thinks Republican tax cuts are unbiblical, and that more government spending and taxes are the main antidote. But nowhere in the Bible are we told that government should take one man's money by force of law and give it to another man. Jesus' admonition was a personal command to share, not a command for Caesar to "spread the wealth around."
First, Bauer mischaracterizes Wallis' position. Sojourners and the entire Circle of Protection have called for a balanced approach to deficit reduction. This means that taxes should be on the table. But, the Circle acknowledges that there does need to be spending reductions and explicitly states that some of those reductions will need to come from entitlements.
Now, on to the biblical problem.