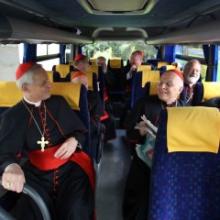 As the Vatican prepares for the opening of the conclave today to elect a new pope, officials announced that the personal secretary of former Pope Benedict XVI will return to Rome for the first time since Benedict's resignation on Feb. 28.
The Vatican's chief spokesman, the Rev. Federico Lombardi, confirmed on Monday that Gaenswein will be one of the senior Vatican officials to take part in the solemn procession of cardinals into the Sistine Chapel that will open the conclave on Tuesday afternoon.Archbishop Georg Gaenswein, who was Benedict's closest aide when he was pope, moved with Benedict to the papal summer residence of Castel Gandolfo when the retired pope left the Vatican on Feb. 28.
His presence will once again highlight the unprecedented situation — and potential complications — of having a retired pope still living just as cardinals gather to elect his successor.