focus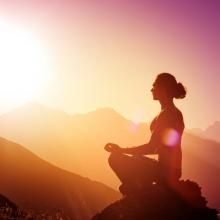 Class began at dusk in a dimly lit studio facing Pacific Coast Highway as the yoga teacher appeared, adjusting the shawl draped around his shoulders, and took his seat on a quilted meditation pillow.
Because the sun was setting behind him, the teacher appeared in silhouette. I could only hear his voice as he guided us through the 90-minute Kundalini yoga class – a series of meditations, chanting, vigorous breathing exercises, and asanas (or postures).
"I want you to know that this is a safe place," the teacher, Cole "Raahi" Jacobs, told us midway through class. "You can feel whatever you need to feel. You are safe here."
I did. I was.
At the beginning of the year, I embarked on a two-month sabbatical to recover from a rough 2012. I needed to recharge, and resolved to rest, spend time with the people I love most, and find some kind of physical practice that would be restorative.