flow
God's word is rich with images of water. Drink up.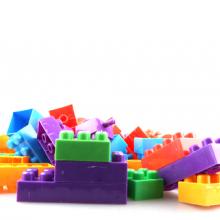 My children spend more time building with Lego than just about anything else. Almost always, what they make is surprising, unexpected, startlingly new.
I want to share some observations from when a totally different thing enters the picture: the Lego building challenges.
For days after they read about a new "challenge" (build a dream home, build some kind of robot, etc.) they'll work and re-work a project and pester us to photograph them and worry about whether or not they'll win. Here's the surprising part:
When they are building for the contest — for that $100 gift card and their picture in the magazine — their creations are startlingly less creative. All of a sudden, they are timid and anxious about their creations. Honestly, their for-contest work is always inferior to their regular work.
Why does this matter? Because I think it shows us something important about motivation and its effect on creativity.